Sam Rotman Concert
September 24, 2023
6:00pm – 7:30pm
Directions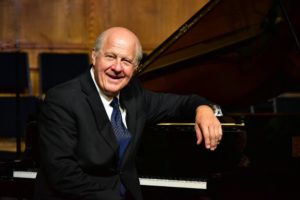 When Sam Rotman made his debut at the age of 16 with the San Antonio Symphony Orchestra before an audience of 6,000 people, the Baldwin Keynote Magazine wrote, "Sam Rotman is a pianist with abundant potential."
Mr. Rotman received his Bachelor and Master of Music degrees from the Juilliard School in New York City. While a student, he was the recipient of nine awards in the form of grants, scholarships, and prizes. Today Mr. Rotman is a member of The Augustus D. Juilliard Society at the Juilliard School. Subsequently, he has been among the winners in five piano competitions, both in the United States and Europe.
The most prestigious award was that of Laureate Winner in the 4th International Beethoven Competition in Vienna, Austria. Mr. Rotman participated in the 6th International Tchaikovsky Piano Competition in Moscow, Russia. In May 2016, he was awarded an Honorary Doctor of Fine Arts Degree from The Master's University where Dr. John MacArthur is President. Mr. Rotman is the only recipient of such an Honorary Doctorate in the school's history. He was also nominated for the Pennsylvania Governor's Award for Excellence in the Arts. Mr. Rotman has given over 3200 performances in the United States, Canada, Mexico, the Caribbean, South and Central America, Africa, South Africa, Europe and Asia, totaling 61 countries.
Mr. Rotman has devoted a specific area of his musical life to the study and performance of the works of Beethoven. Beginning with a series of all Beethoven concerts in 1970 (the Beethoven bi-centennial), he was presented on Public Broadcast System in a special Beethoven concert. Mr. Rotman continues to perform the works of Beethoven in recital and with orchestra.
Mr. Rotman has released four recordings. Portrait of a Piano includes the works of Mozart, Beethoven, Schubert, Chopin, Debussy, and Rachmaninoff, Impressions: Piano Portraits of Claude Debussy, Mussorgsky's Pictures at an Exhibition and Rachmaninoff Piano Works,and his most recent recording is The Piano Music of Beethoven, including the Moonlightand Pathetique Sonatas. A video entitled Sam Rotman, Concert Pianist: The Music and Testimony of a Jew for Jesus has also been produced. Sales of Mr. Rotman's recordings and videos have exceeded 75,000. These recordings and the video are displayed on Mr. Rotman's PRODUCTS webpage, complete with ordering and pricing information. Mr. Rotman's recordings have been downloaded thousands of times on iTunes and Rhapsody.
Mr. Rotman has performed in the following countries:
NORTH AMERICA

: United States, Canada & Mexico

SOUTH AMERICA

: Venezuela, Brazil, Argentina & Chile

AFRICA

: South Africa, Rwanda

CENTRAL AMERICA

: Guatemala

THE CARIBBEAN

: Puerto Rico, Dominican Republic, Cuba, Haiti & The Bahamas

EUROPE

: England, Wales, Scotland, Ireland, Northern Ireland, France, Monaco, The Netherlands, Luxembourg, Belgium, Italy, Spain, Portugal, Switzerland, Germany, Poland, Austria, Czech Republic, Slovakia, Hungary, Romania, Moldova, Albania, Croatia, Serbia, Kosovo, Greece, Turkey, Russia, Ukraine, Latvia, Norway, Finland & Sweden

MIDDLE EAST

: Israel

ASIA

: China, India, Singapore, Philippines, Indonesia, Malaysia, Thailand, Japan, South Korea, Australia & New Zealand.
Here is a sampling of famous halls where Mr. Rotman has performed:
Carnegie Recital Hall, New York

Grand Hall of the Conservatoire, Moscow

Musikverein, Vienna

Konzerthaus Gendarmenmarkt, Berlin

Saitama-Kaikan, Tokyo

Sala de Conciertos, Caracas

Sala Chopin, Mexico City

Salone Di Vittorio, Milan

L'Auditori, Barcelona

Circulo de Bellas Artes, Madrid

La Salle des Varietes, Monaco

Lemmen Instituut, Brussels

Sala Teatrului de Operata, Bucharest

Sala cu Orga, Kisinev, Moldova

Muzicka Akademija, Zagreb,Croatia

Konserthus, Jonkopings, Sweden

Connolly Hall, Cork, Ireland

Colegio de Escribanos, Buenos Aires
Mr. Rotman's testimony "Performance" has appeared in Contact, published by Christian Business Men, and The Good News Broadcaster, published by The Radio Bible Class. His article "Classical Music and the Christian" was published in The Banner of Truth Magazine, Scotland, The Sword and Trowel, Arkenstone, a Christian Arts Magazine, and The Christian Arts, Inc. Newsletter.
If you would like further information, you can e-mail Mr. Rotman at Info@samrotman.com.